North Metro Denver Market Real Estate Report November 2019
Market Overview (Year to Year)
The good news is that year to year for homes and condos is that the rise in supply both in new listings and current active listings has slowed down, and demand has only seen a small decrease. Based upon the most recent data our theory that the market has leveled out and overall market economies are good.
Average Price
$486,390
Up -3.54%
2019 Month to Month (Oct vs. Nov)


Single-Family
Month to month stats for single-family decreasing inventory and increasing demand year to year while month to month only saw a 5% decrease, while it is more season than a component of the market slowing down. The average sales price for the great metro Denver market is $456,000 up 4.83% from last year.
Attached
The attached dwelling market is still showing signs of weakness with active inventory up 15% and demand down 3%. This trend should hurt prices going into Q1 of 2020. Average sales prices are currently at $365,665 which is an increase of 7% from last year.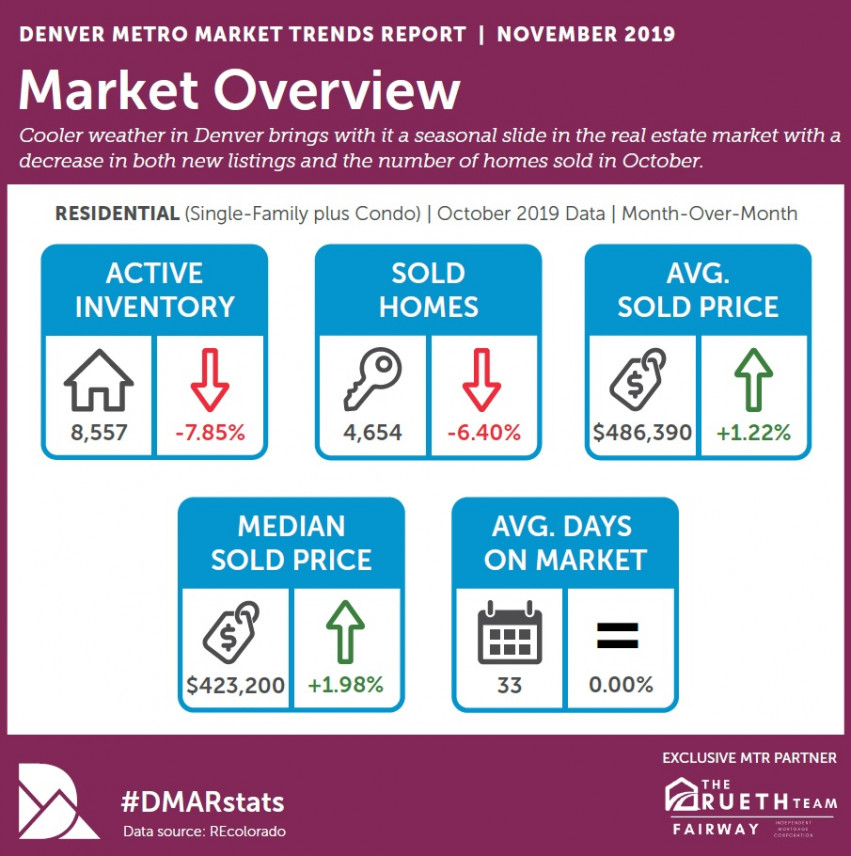 The National Market
I hope that you had a wonderful Thanksgiving. I want to share some excitement around the housing market. Here are three takeaways from the latest RE/MAX National Housing Report.

1. Home sales are up – up 3.9% from last year.
2. Home prices are up – the median price is $254,800.
3. The number of homes on the market continues to decline – down 9% from last year.

I know you're wondering: what do these numbers mean for you? It means that buyers are continuing to take advantage of lower mortgage rates. Increased sales make it so that there aren't that many homes on the market, and they're selling for a higher price. If a new home is on your wish list for this year or next, give me a call. I'd be happy to help you with all of your real estate needs.

Thank you for trusting me as your local real estate expert.
Median Price
$263,000
Down 3.6%

Marketing sells homes.
We'll expose your home to thousands with our proven social and email marketing strategy.

Not sure where to start?
Beginning your home search can feel like an overwhelming and nerve-wracking task.