Market Insights November 2019 Boulder County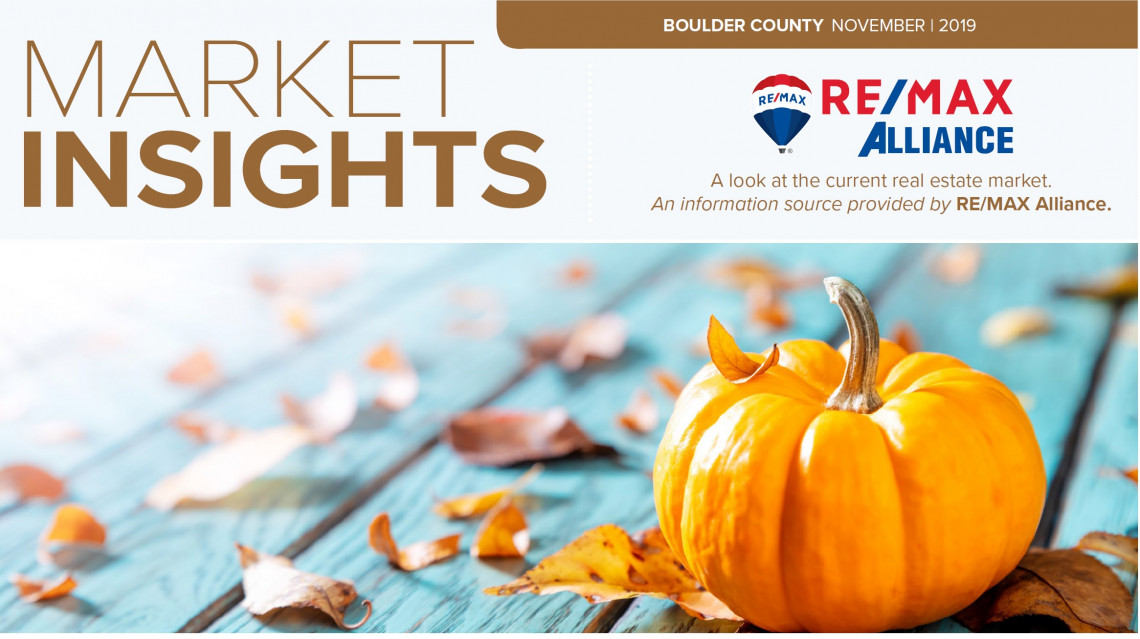 Market Insights for November 2019 Boulder County
What is your favorite sound this time of year? Do crackling sounds make you thankful for your fireplace? Do sounds of children shouting as they play in the snow fill you with gratitude for the family? How about the scratch of a pen across the paper? Maybe you are grateful for the closing of a real estate transaction! Out of the 588 homes available for sale in Boulder County this October, a few thanks were likely given and received as 474 sales closed successfully this past month.
Reports confirm that consumer confidence is at the highest levels since this time last year, and sales of single-family homes rose over 7% nationwide. Along with this, home values have risen a bit more than 3% year over year. Last year's average sales price of $646,830 in Boulder County has been topped, with the October 2019 average coming in at $651,230.
Although builders are still lagging a tad behind the demand for housing, and inventory is tilted to the low side, construction has stepped up and given buyers greater choice. That choice could be the reason our marketplace is seeing an average Days on Market of 53.
Rental market statistics aren't what we normally cover during the monthly insight on sales along the Front Range, but when it plays a significant role in market trends, we would be remiss not to mention it. According to a survey done by Freddie Mac, steeply rising rental rates overall are positively impacting home sales. Renters are becoming far more aware that they are spending larger percentages of their monthly income on rental fees. In fact, they are spending higher percentages than actual homeowners are spending on mortgage payments. Curious if you are affected by these statistics? RE/MAX Alliance sales associates are a great starting point to gather information on costs, home prices, and affordability of homeownership. You may have heard this before, but perhaps it takes on new meaning at this time of year. Paying rent is paying a mortgage; just not your own and with none of the benefits.
As current homeowners see the strength of the real estate market sustained, more of those holding on to a starter home that no longer fits their needs may choose to opt for a larger house. This should make it easier for about 40% of the buyers seeking homes, which is the average percentage of first-time purchasers in any given market area.
Since a significant share of housing demand these days comes from younger buyers, new home sales will take a turn for the better as greater inventory and choice is made available. Thankfully, continued low mortgage interest rates are helping with affordability, and as builders' efforts increase, so will the inventory level and the sales statistics across the Front Range in the Colorado real estate market.